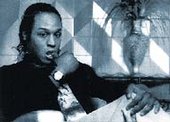 he Universal Records performing artist Rachid and the Barnard/Columbia Gospel Choir will be featured in two February concerts at Sarah Lawrence College as part of the College's celebration of Black History Month. Rachid, a '96 graduate of Sarah Lawrence, will perform Saturday, February 20 at 8 p.m. in the Studio Theatre; the Barnard/Columbia Gospel Choir, which features Vandalyn Kennedy, a '98 Sarah Lawrence graduate, will perform Monday, February 22 at 8:30 p.m. in Reisinger Hall. Both concerts are free and open to the public.
An eloquent songwriter and magnetic rhythm and blues singer, Rachid made his first album this year, produced by Universal Records called "Prototype." According to Billboard Magazine, "Prototype" offers a definitive blend of music genres that include hip-hop, gospel and R&B.
Trained in both gospel and classical music, Rachid performs in what has been called "a muscular, soul-fused voice," ranging easily from deeply personal soul ballads to international drum-and-bass dance music. Of his magnetic stage presence, The Newark Star-Ledger says that Rachid "intrigues by merging smooth, accessible music with confessional, surprising lyrics."
Rachid was signed by Universal to a recording contract during his senior year at Sarah Lawrence College, where he studied English and French literature and theater. He is the son of Ronald Bell (now known as Kahlis Bayyan), the songwriter-saxophonist-producer and co-founder of the successful 70's and 80's funk band Kool and the Gang.
In existence for more than 20 years, the 50-member Barnard/Columbia Gospel Choir is composed of both undergraduate and graduate students attending Barnard College and Columbia University in New York City. The Choir is led by Director and Choral Trainer Vandalyn Kennedy.
From directions or more information, please call (914) 395-2411.