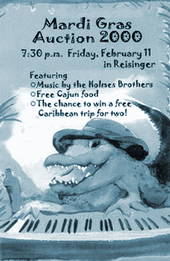 Event Kicks Off With Performance By The Holmes Brothers Blues Band
A Vera Wang gown, a script signed by the cast of "Chicago Hope," and autographed copies of Alice Walker's The Color Purple and J.K. Rowling's Harry Potter and The Prisoner of Azkaban are just a few of the items donated and up for bid at the annual Students for Students Scholarship Fund auction at Sarah Lawrence College, Friday, February 11 in Reisinger Hall.
The auction, which features a Mardi Gras theme, commences at 8:30. A preview reception will be held from 6:00-7:30 with Cajun food catered by Mt. Vernon's Bayou restaurant. A performance by the Holmes Brothers Blues Band, an award-winning trio that plays a unique blend of blues, gospel, soul, R&B and country, begins at 7:30. The reception, concert and auction are free and open to all serious bidders. Reservations are required by calling Angela at 395-2575 or by email at: mailto:aconley@slc.edu
The oldest student-initiated scholarship fund in the U.S., the Sarah Lawrence Students for Students Scholarship Fund helps bring students-in-need to Sarah Lawrence with funds raised through campus events and fundraisers. Organizers hope to raise $10,000 this year. Among the 70 items up for bids are items donated by celebrities, including Paul Newman, Tovah Feldshuh and Lauren Holly. Items donated by Sarah Lawrence alumnae/i, faculty and staff include original artwork, Knicks game tickets, and a weeklong stay at a Colorado ski home. For more information or to donate an auction item, please contact the Office of Student Affairs at (914) 395-2575.