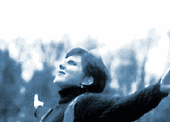 Opera singer and recording artist Dawn Upshaw will perform "songs inspired by the wonder of childhood" on Thursday, January 28, 1999, at 7 p.m. to benefit Sarah Lawrence College. The program will be held in Reisinger Concert Hall on the Sarah Lawrence campus. A reception will follow.
Dawn Upshaw is among the most celebrated singers of our time. Whether on the opera or recital stage, her ability to reach to the core of text and music has earned her the devotion of an exceptionally diverse audience throughout the world. Time Magazine stated that "Upshaw conveys what the best singers have always strived for: the sense that a song springs directly from mysterious promptings within her."
The program will include works by Mozart and Mussorgsky alongside traditional American music and original compositions by Bill Crofut performed with guests Margo Garrett, piano, and Bill Crofut, banjo and vocals.
Applauded in the opera houses of New York, Paris, Salzburg and Vienna for her portrayals of the great Mozart roles, Ms. Upshaw is also renowned for her work in 20th century opera. In her work as a recitalist, Ms. Upshaw evinces a freshness of conception and a naturalness of manner that are credited with helping to revitalize the song recital. Deeply involved in the music of our time, Ms. Upshaw has brought it to a wider public than perhaps any other singer of her generation has. She has championed new and traditional American folk music with Bill Crofut and his ensemble.
Proceeds of the concert will support the Sarah Lawrence Music Program and Early Childhood Center.
The Early Childhood Center at Sarah Lawrence is a nationally renowned laboratory pre-school. In addition to its teaching staff, more than 50 Sarah Lawrence students in psychology, art, music and dance work in the Center each year as student assistants, making possible a high ratio of adults to children and supporting the Center's curriculum.
Ms. Upshaw commented: "I am especially pleased that funds raised from this concert will go to the Center's marvelous program."
Sarah Lawrence's Music Program is a conservatory-level program for students aspiring to professional careers, as well as for those who love music and want to study it in the context of the liberal arts.
Tickets for the concert range from $100–$350. For more information, please call (914) 395-2412.