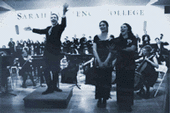 The Sarah Lawrence College Chorus, Chamber Choir and Orchestra will present Bach's Christmas Oratorio and other works on Sunday, December 6 at 4 p.m. in Reisinger Hall. Included in the program are:
J.S. Bach: Christmas Oratorio
Johannes Brahms: Nanië
Benjamin Britten: A Boy is Born
Claudio Monteverdi: Hor che'l ciel e la terra
The concert is free. Please call (914) 395-2411 for information and directions.