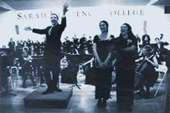 The Sarah Lawrence College Orchestra presents a concert on November 22, 1998 at 4 p.m. in Reisinger Hall featuring works by the Bach family, perhaps the world's most outstanding family of musicians. Sungrai Sohn will conduct the program, which is free and open to the public.
The program includes the Overture Suite by Johann Bernhard with the violin solo to be performed by concertmaster Chloë Allen, a second-year student. Also included is the English Suite No. 3 by Johann Sebastian, and the Symphony in D Major by Carl Philipp Emanuel.
Featured is the Cantata: Lamento, "Ach, dass ich Wassers ge'nug hätte" by Johann Christian, the youngest son of Johann Sebastian. Mezzo-soprano Hilda Harris, a member of the voice faculty at Sarah Lawrence, is the guest artist. Her extensive career in recital, concert, and opera includes many years as a solo artist with the Metropolitan Opera Affiliate Artist Program.
For more information, please call (914) 395-2411.