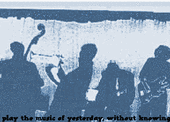 Sarah Lawrence College presents its first-ever Jazz Festival on its Bronxville campus. The four-day festival, to be held in the college's Reisinger Concert Hall, will celebrate the cutting edge tradition of improvised jazz, and strives to promote music that is at the same time both underground and rooted firmly in the Jazz tradition. The student-organized festival will run from October 21- October 24, 1998. Tickets are $10; $8 for senior citizens and students or $28 for a festival pass. All concerts are at 8 p.m.
Opening the festival on Wednesday, October 21 is double bass master and composer, William Parker whom the Village Voice has called "the most consistently brilliant free jazz bassist of all time," and his "In Order To Survive" ensemble, who combine original compositions with complex, intense improvisation. Rob Brown, reeds; Cooper Moore, piano; and Susie Ibarra on drums/percussion.
The Redline Ensemble follows Thursday night, October 22 with its dancing spirit and youthful optimism that knows no boundaries to the art of musical exploration, creating spontaneous compositions that are, "just like they are written." Raphe Malik, trumpet; Sabir Mateen, reeds; Benjamin Karetnick, percussion; Daniel Carter, reeds; Larry Roland, bass; and Phloyd Starpoli, trombone.
Friday night, October 23, 1998 percussionist Barry Altschul and his group featuring Dave Douglas, trumpet; Hill Greene, bass and Ellery Eskelin, tenor sax, return to the New York Jazz scene. Their repertoire consists of standard compositions and original work inspired by music from throughout the world—from South America to India and Japan. Altschul combines hard swinging improvisations with 20th century sound concepts to create a forward-driving music.
Saturday night, October 24, will feature a performance by Blue Note recording artist and pianist Andrew Hill and his Point of Departure Sextet, featuring Marty Ehrlich, reeds; Jay Collins, tenor sax; Jimmy Owens, trumpet; Ed Howard, bass and Nashet Waits, drums. Mr. Hill accompanied Dinah Washington in the late 1950s and later backed Johnny Hartman and Roland Kirk. With his recordings for the Blue Note label Mr. Hill was recognized by many as heir to Thelonious Monk and Bill Evans, emerging as one of the strongest voices in modern Jazz. Wire Magazine wrote that Hill was "among the most profound and wide-ranging stylists to develop out of post-bop."
A Symposium discussing the history, direction and current state of the music will take place throughout the week. On Friday, at 6 p.m. jazz historian Phil Schapp will give a pre-concert lecture.
The Jazz Program at Sarah Lawrence College, which includes jazz performance, history and instrumental instruction, has expanded as a result of increased student interest. Approximately one-quarter of the students studying music at Sarah Lawrence studies Jazz within the music curriculum. Sarah Lawrence College is located 25 minutes from downtown Manhattan.
For more information, please call (914) 323-6376.
Sarah Lawrence College Jazz Festival Schedule
William Parker's In Order to Survive with Rob Brown, reeds; Cooper Moore, piano; and Susie Ibarra on drums/percussion: Wednesday, October 21
Redline Ensemble with Raphe Malik, trumpet; Sabir Mateen, reeds; Benjamin Karetnick, percussion; Daniel Carter, reeds; Larry Roland, bass; and Phloyd Starpoli, trombone: Thursday, October 22
Barry Altschul Group with Dave Douglas, trumpet; Hill Greene, bass and Ellery Eskelin, tenor sax: Friday, October 23
Andrew Hill's Point of Departure Sextet with Marty Ehrlich, reeds; Jay Collins, tenor sax; Jimmy Owens, trumpet; Ed Howard, bass and Nashet Waits, drums: Saturday, October 24