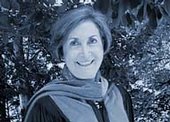 Michele Tolela Myers was installed as the ninth president of Sarah Lawrence College on September 25, extolling the college's distinctive system of education and focusing her attention on the integral role the creative and performing arts play within the liberal arts.
"Sarah Lawrence is mainly about three things: educating the individual, nurturing the creative spirit of each student, and having individuals make a difference in the larger world," said the newly installed president of the 72-year old institution. Sarah Lawrence's distinctive approach to learning combines small seminar classes with individual tutorials and independent research. "While the press of careerism has made some colleges go back to more structured and more professional curricula, Sarah Lawrence...continues to teach students one at a time and helps them shape their own education."
Margot Bogert, chairman of the board of trustees presided over the ceremonies which included the board of trustees, delegates from colleges and universities from around the country, alumnae/i, faculty, administration and staff. Of President Myers, she said: "She comes to us with conspicuous energy, experience and enthusiasm. She is a passionate advocate for liberal arts education. She immediately understood and instinctively valued Sarah Lawrence's distinctive educational philosophy."
In her inaugural address, President Myers said: "At this time in the history of the college, Sarah Lawrence has something to offer few other colleges do: a dogged belief in the power of the liberal arts to free us; a passionate commitment to a pedagogy focused on serious one-on-one intellectual encounters between faculty and students; a curriculum built on connections among disciplines and on the interdisciplinary nature of problem-solving and creativity; a lean administrative structure without traditional departments to enhance communication across intellectual boundaries; a vision of the arts as integrated to one another and deeply grounded in the larger liberal arts context."
On the integral nature of the arts in education, President Myers stated that: "The arts are about learning different ways of seeing and observing, of thinking and sensing, of solving problems, of using one's imagination to fuel the analytical process, and honing critical skills that enrich and broaden the imagination....Those who have had serious encounters with the arts at a young age, often develop a life-long interest in the arts, sometimes a compelling avocation, and many claim they are better at what they do as doctors, lawyers, historians, teachers, scientists, for having wrestled with the discipline required in learning to do art, and for learning to appreciate the richness of the cultural heritage passed on through the arts.
"The arts can and do provide ways to bridge the many divides that separate us. Young and old, rich and poor, black and white, gay and straight, men and women...can come together and learn to recognize, appreciate, and enjoy beauty as well as admire and support those whose talents allow them to bring such beauty to us. The arts should be viewed as one of the ways in which communities can rally together as we learn to respect and appreciate all forms of human expression and creativity...
"Leading liberal arts colleges are clearly in the business of educating future leaders and contributing citizens. It is our responsibility to ensure that our cultural heritage, broadly defined and broadly inclusive, is passed on to the next generations, for them to question, understand, and build upon. It is our responsibility to ensure that young people will learn to appreciate the arts and literature as extraordinary expressions of human ideals and achievements, every bit as important as the unprecedented scientific advances we have been fortunate to witness. It is our responsibility to educate people who will not let the arts die, who will be capable of becoming the artists and writers who will leave intellectual and artistic legacies to nurture our minds and souls. And it is our responsibility to educate those who will support and nurture the arts in their own communities."
President Myers noted that Sarah Lawrence has "a first rate faculty who view the arts broadly and are willing to work together to redefine an even more integrated vision of the arts for the next century - a vision that will make stronger connections among all the fields we teach here, from psychology and chemistry to history, art history, literature, sociology and anthropology and all the visual and performing arts."
Dr. Myers comes to Sarah Lawrence after serving as president of Denison University in Granville, Ohio since 1989. Previously she was dean of the undergraduate college at Bryn Mawr College. During her tenure at Denison, she is credited with improving the university's academic programs and reputation, and increasing the number and improving the quality of entering students. Under her leadership, Denison's endowment grew from $75 million to $275 million.
In 1996, Dr. Myers received the $150,000 Knight Foundation Award for Presidential Leadership, given for the first time to five presidents of liberal arts colleges for their successful leadership. She is immediate past chair of the American Council on Education, the national association representing higher education institutions.
Born in Rabat, Morocco and raised in Paris, Dr. Myers earned her diplôme in political science and economics from the Institute of Political Studies at the University of Paris in 1962. She earned the master's degree in 1966 and the Ph.D. degree in 1967 in communication studies from the University of Denver, as well as the master's degree in 1977 in clinical psychology from Trinity University in Texas. She taught sociology and communication, with emphases in organizational behavior, managerial communication and negotiations and has been a consultant on these issues for education, business, professional and health-care organizations. She is co-author, with Gail E. Myers, of four books on communications: The Dynamics of Human Communication: A Laboratory Approach; Managing by Communication: An Organizational Approach; Communicating When We Speak; and Communication for the Urban Professional.
Founded in 1926, Sarah Lawrence has 1,111 undergraduate and 291 graduate students. This fall, Sarah Lawrence enrolled the largest class in its history, representing the latest peak in a crescendo of interest in the College in recent years.