The Sarah Lawrence College Communications Toolkit is a collection of resources available to help College employees create documents, presentations, fliers, e-mails, and other communications that look and feel professional and authentically Sarah Lawrence.
Consistency and accuracy in our communications influence how our external audiences perceive Sarah Lawrence. In other words, what we say is as important as how we say it and how we present it.
Any external use of official Sarah Lawrence College logos, wordmarks, and photography must be approved by the Office of Marketing & Communications. To request support, please contact the Office via e-mail.
Please note that certain proprietary content is only available on MySLC, where login is required.
General
Your Sarah Lawrence Identity
Requesting Business Cards
Use this form to request official Sarah Lawrence College business cards. Please note: business cards are produced only for current faculty and staff, and all requests must be approved by your supervisor (if applicable).
For cost-effectiveness, business card orders are grouped and submitted to the printer in batches. While we strive to deliver all orders within one month, delivery times vary at different points throughout the year, with orders placed later in the academic year often taking longer. We encourage you to monitor your stock of business cards and order before you run out. All orders must be picked up at the Office of Marketing & Communications. To check the status of your order, please contact Rob Weber, Print & Direct Mail Manager.
Formatting Your E-mail Signature
The Office of Marketing & Communications is asking faculty and staff to begin incorporating a common style in all e-mail signatures, which will ensure that your contact information renders consistently across e-mail clients and clearly associates you with Sarah Lawrence College.
Photography & Wordmarks
Selected Photography
This collection of recent photographs feature scenes of the campus, academics, student life, and alumni. These images are approved by the Office of Marketing & Communications for use by Sarah Lawrence faculty and staff for work supporting the College.
Please note that any other use requires permission from the Office of Marketing & Communications.
Login to MySLC to access the gallery of selected photography
Wordmarks
To communicate both the rigor and flexibility of a Sarah Lawrence education, the official wordmark has flexibility built in…with rigorous rules. Its modular components can slide horizontally, creating variants that can be used in different design contexts and to reinforce different communication objectives. Please refer to the Communications Guidelines (PDF) for information about effectively using College wordmarks.
Note that .png files are provided for Web, e-mail, and Microsoft Office projects, while .eps files are provided for print projects created in professional design programs.
Photo/Film/Video Permissions
Often, departments who plan to hire a photographer to shoot an event, or who plan to shoot an event themselves, ask us what types of permission they need to obtain from the subjects of the photos. The permission form outlines that process and should be given to photo subjects to affirm their consent to be included.
Brand Guidelines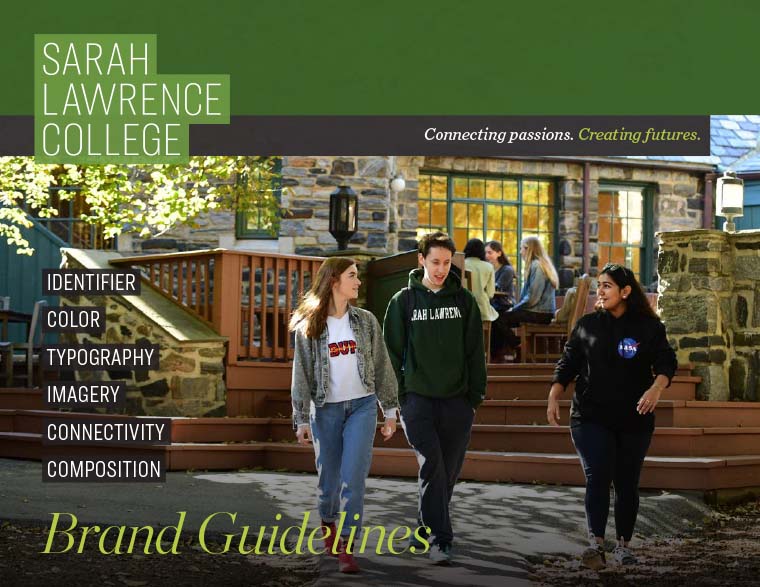 This guide is your resource for creating communications that inform and inspire with clarity and purpose. Use it to brainstorm approaches and create content for your department. It contains information on the proper use of our wordmark and color palette. While this guide is comprehensive, don't hesitate to contact the Office of Marketing & Communications for guidance, feedback, and support.