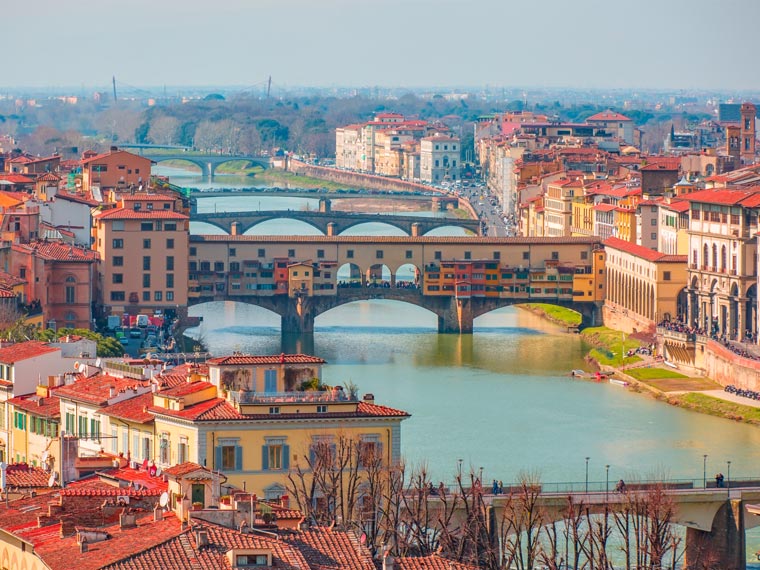 Join art history faculty member Joseph Forte in exploring the major jewels and little known gems of Florence, Italy. Students will study the history and art history of Florence: the center of medieval Tuscany, the birthplace of the Renaissance, and the source of so many of the ideas that we associate with contemporary art and artists.
Students enroll in two courses.
The Renaissance and the Modern (3 credits)
This course will explore the rich art and architecture of Florence and its surrounding cities. Students will attend seminars at the Middlebury College Center situated in the heart of Florence. The class will also include visits to many of the area's museums and field trips to surrounding cities.
Nationhood: Italy, 1815-1915 (2 credits)
Beginning with the Congress of Vienna, this course examines Italy's tumultuous path toward nationhood and unification, known as the Risorgimento. We will consider the ways in which, though politically unified, the peninsula remained economically, socially, culturally, and linguistically divided in the decades that followed. While this course studies Italian unification from a historical perspective, readings are interdisciplinary in nature and include excerpts from Giuseppe Tomasi di Lampedusa's The Leopard (Il Gattopardo), Antonio Gramsci's Prison Notebooks (Quaderni del carcere), and the operas of Giuseppe Verdi. Of course, particular attention is given to Florence and the region of Tuscany: from the Macchiaioli painters to Florence's short-lived status as the nation's capital and the election of the Florentine dialect as the basis of what eventually became standard Italian.
Friday, June 5
Students arrive
Friday, July 3
Students depart housing
Living in Florence
Spread out along the Arno River, Florence boasts a medieval historic center surrounded by beautiful hills and vistas. Although smaller than most major cities, Florence offers all the culture and vitality of a key metropolis. Its extraordinary past—from Etruscan village, to small Roman outpost, to Renaissance center, to capital of united Italy, to modern European city—offers palpable immersion in an age-old civilization. Life in Florence offers a unique opportunity to inhabit history while enjoying a vibrant, modern city.
While in Florence, students live in an Italian home. Homestay hosts are native Italians who welcome students to share their home, meals, and conversations.
Admission
Completed application forms, letters of recommendation, academic interest statement, study abroad approval, official transcripts, and application fee (guest students only) are due March 1.
Please contact Christopher Olson in the Office of Global Education via e-mail with any questions about your application.
Tuition and fees with descriptions
Fee Type
Amount
Tuition (five credits)

$7,470

Includes all scheduled trips & excursions, special events, and tickets.

Room and board

$TBD

Homestay includes breakfast and dinner five days a week. Students are responsible for weekend meals unless provided by program.

Study abroad medical insurance

$TBD

Students still need to have their own coverage or coverage through the Sarah Lawrence plan to ensure they are adequately covered before they leave the US and upon their return.
Please note: Students are responsible for their own travel costs to and from Florence, Italy.