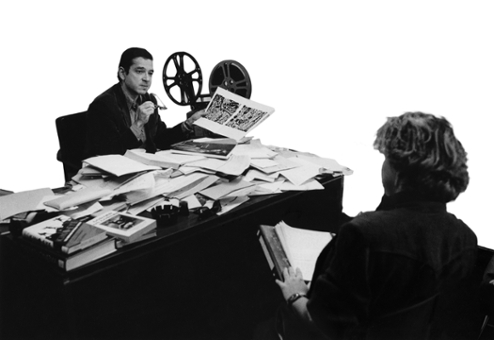 I am not going to write about Gilberto Pérez as a scholar or a profesor. True, he was my colleague at Sarah Lawrence for more than 12 years. But his many qualities (mainly his kindness and good sense of humor, his intelligence and patience, which did not interfere with his courage to speak up on difficult issues, each time that was necessary) have been witnessed by many and are well known both by students and colleagues. I prefer to focus on the unique, irreplaceable friend he was to me.
I met Gil at the MLA Convention in San Francisco in the year 2000. He was in my hiring Committee, along with a profesor of the Spanish Department, Isabel de Sena. I clearly remember him at that time as someone who was capable, simultaneously, of a laid back demeanor and a keen, sharp mind.
It didn't take long for us to become friends once I joined the Sarah Lawrence community. I arrived directly from Buenos Aires and Gilberto possessed two qualities I highly valued: he spoke Spanish (with a Cuban accent) and he was very sophisticated and knowledgeable about films, which, I confess, has always been a passion of mine.
I can't recall how many films we saw together during that decade, but I can definitely assert that all of them were rare.  Real discoveries, cult films, old films, most of them non American, even though we both loved American film noirs and westerns.
We used to meet at those non conventional venues that still cherish art films, such as the American Museum of the Moving Image, the Film Forum, the Anthologies Film Center, the BAM, or Lincoln Center, encountering many times old students of Gil's, who were always thrilled to see him and eager to tell him what they had done after graduation.
The best part of these weekend evenings was the conversations that followed. Gilberto was an expert on film history, but he also knew a lot about other forms of art and literature. His wife, the poet Diane Stevenson, who also came to the shows when she was in town, can testify to the richness and enthusiasm of those dialogues.
As books are concerned, I obviously read his Material Ghost with great admiration, and he also read my poetry. I can't recall a single book presentation of mine in NY that he didn't attend. Not only that, we also shared and discussed book projects and ideas for our works in progress. We strongly agreed that a productive researcher and writer (whichever the field s/he had chosen to work in) was key to making an excellent teacher.
In one of his last emails to me, he wrote,
Querida Maria,
¿Cómo estás? ¿Cómo andan las cosas en Buenos Aires? Me ha entusiasmado tu ofrecimiento de enseñar en la Maestría de Escritura Creativa durante mi próximo sabático, tenemos que planificar.
Estos meses, te estado echando de menos, y te mando un caluroso saludo y anticipadas felicidades por las navidades y el año nuevo.
Un gran abrazo de tu amigo,
Gilberto
Actually, I invited him to teach a seminar on Film and Writing in the MFA I created in Buenos Aires, and the idea of visiting this city for the first time in his life really excited him.
Is it possible that this won't happen?
I can't write any more.
Yo también te echaré muchísimo de menos, querido Gilberto.
Un gran abrazo de tu amiga,
María
María Negroni
Spanish Faculty