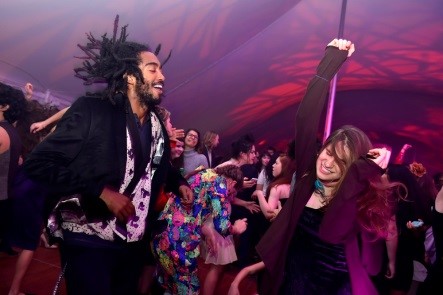 The Parent Advisory Council (PAC), a highly engaged group of current parents, works enthusiastically in support of the College and its students. PAC members attend campus events, act as ambassadors at Sarah Lawrence and in their home communities, and enjoy working with the College to offer internships and career counseling support to our students. Sarah Lawrence is grateful for these important contributions!
The Council is also very successful in its fundraising activities, and our students benefit from its generous donations to the Student Engagement and Internship Travel Stipend Funds.
Student engagement in the cultural life of the College is known to be an important predictor of students' college success. Each year, the Sarah Lawrence Activities Council (SLAC), a group comprised entirely of student volunteers, is tasked with the exciting job of planning the fall and spring formals. The students work together for the duration of the semester in an effort to produce a memorable night for their peers. SLAC is chaired by two students and advised by the Director of Student Activities, Joshua Luce. PAC's generous donations, along with funding from the Student Senate and the Office of Student Activities, make these popular events possible. This past year's spring and fall formals were again huge successes, with roughly 800 students in attendance at each.
The PAC-funded Internship Travel Stipend Fund helps students on tight budgets get to the internships that are so crucial for post-college career success. The fund has provided travel stipends for internships at organizations and corporations including Atlantic Records, Cosmopolitan Magazine, the American Museum of Natural History, the Solomon R. Guggenheim Foundation, and many others.
Hasan Nisar '17 interned at Smuggler, a film, TV, commercial, and music video production company in New York City, which represents a roster of award winning directors. Hasan writes: "My advice to students is to be the best you can be while interning. Be presentable, dress professionally, and most importantly, listen more than talk."
Sarah Lawrence College thanks the Parent Advisory Council for helping to make these important learning experiences possible for our students.