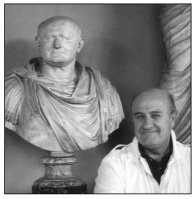 Sarah Lawrence has gratefully received a generous commitment of $3 million to support the Barbara Walters Campus Center, made anonymously in memory of literature and writing faculty member emeritus Joseph Papaleo '49 by one of his former students.
Joe Papaleo was a prolific and widely published writer of fiction and poetry who received numerous awards for his work, including an American Book Award and a Guggenheim Fellowship. He also translated Eugenio Montale and Dario Fo into English. For more than 30 years, he headed Sarah Lawrence's writing program and served as a beloved mentor and friend to generations of Sarah Lawrence students. The Barbara Walters Campus Center's magnificent open atrium, designed to connect the north and south ends of the Sarah Lawrence campus, will be named in his honor.
Below is a series of sketches, diagrams, and photos detailing the development and construction of the Barbara Walters Campus Center. To follow the progress of construction, visit the construction site camera.