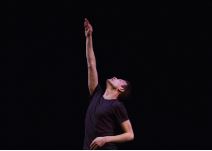 Ian Spencer Bell '13
 performs two works with poems,
Duet + Marrow
, on Saturday, November 30 at 8 p.m. at The Dance Complex in Cambridge, MA. Blending idiosyncratic movement with classical dance and spoken poetry, Bell creates a queer language of his own.
The New York Times
writes "his movement itself seems to do the talking, physical sentences inseparable from verbal ones—neither upstaging the other—so that what results is not dance and not poetry but some third medium." In "Duet," Bell brings to life his poem about his relationship with a dancer who, in early 2000s Brooklyn, concealed that he was HIV positive. "Marrow" is about growing up queer in Virginia in the 1980s. Dancers Gary Champi and Joshua Tuason join Bell onstage. Bell has been developing the program since 2017 and has given showings at the 92nd Street Y in NYC and Bard College at Simon's Rock in Great Barrington, MA, where he is a visiting artist. More information and tickets at
ianspencerbell.com
.